Today's Debs
The workingman today does not understand his industrial relation to his fellow-workers. He has never been correlated with others in the same industry. He has mechanically done his part. He has simply been a cog, with little reference to, or knowledge of, the rest of the cogs. Now, we teach him to hold up his head and look over the whole mechanism. If he is employed in a certain plant, as an Industrial Unionist, his eyes are opened. He takes a survey of the entire productive mechanism, and he understands his part in it, and his relation to every other worker in that industry. The very instant he does that he is buoyed by a fresh hope and thrilled with a new aspiration. He becomes a larger man. He begins to feel like a collective son of toil.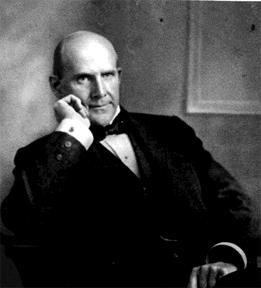 Then he and his fellows study to fit themselves to take control of this productive mechanism when it shall be transferred from the idle capitalist to the workers to whom it rightfully belongs.
In every mill and every factory, every mine and every quarry, every railroad and every shop, everywhere, the workers, enlightened, understanding their self-interest, are correlating themselves in the industrial and economic mechanism. They are developing their industrial consciousness, their economic and political power; and when the revolution comes, they will be prepared to take possession and assume control of every industry. With the education they will have received in the Industrial Workers they will be drilled and disciplined, trained and fitted for Industrial Mastery and Social Freedom.
-from "Revolutionary Unionism"