Today's Debs
Today's Debs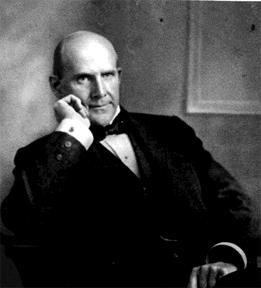 Daily the columns of the capitalist press are filled with the outcry that the wolves of greed are threatening to devour everything in sight and bring ruination and destruction upon the country. How sad!
Every solitary wolf in the pack is an arch patriot. Even the food hog has turned wolf and is now baying with the pack. The food wolf, the fuel wolf, the oil wolf, the leather wolf, the transportation wolf and the whole infernal pack of fanged devourers are at the flanks of the people, but by what rights does the capitalist press pretend to denounce their ravenous greed, the greed out of which this hellish war has risen and for no other purpose than to license these very wolves to fatten upon the misery and desolation of the people. It is a sight to make men and angels weep and curse to see the organs of capitalism bewailing the fate of the people at the mercy of the fanged hyenas of which these organs are but the whetters of the jaws and sharpeners of the claws.
Only the revolutionary papers that oppose capitalism and its piracies have the right to expose its iniquities and advocate the extermination of the devouring human wolves by destroying the system which breeds them.
-from "The War and the Wolves"